P1 Head Start to Writing
Progresses from sentence- to paragraph-writing
Writing complete sentences, writing descriptively
A variety of Story Starters and Story Endings
P2 I Can Write!
Writing descriptively, showing and not telling
Interesting Story Starters, satisfying Story Endings
Progressive and scaffolded learning
I really liked the way Mrs Jaya taught us to write good story starters, super sentences and good story endings. I wish there were more lessons and would like Mrs Jaya to teach us again.
Zahirah, 2-6
Punggol Primary School
P3 Improving Writing Skills
Important story elements (Setting, Characters, Plot, Point of View)
Story structure (Hamburger Analogy)
Interesting Story Starters, developed Story Middle, satisfying Story Endings
I really liked the programme. It helped me to learn good phrases and words. Thank you, Mrs Chua, for teaching us.
Reese, 3CH
Geylang Methodist School (Primary)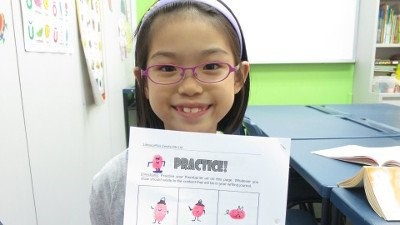 P3–P4 Creative Writing & Thumbprint Art Publishing
Publishing individual writing journals
Compositions accompanied by thumbprint art
Writing descriptively, writing poetry
I really liked decorating my writing journal and doing the thumbprint art.  I also liked my teacher.  She is funny and understanding.
Ming Xuan, 3Grace
CHIJ Our Lady of the Nativity
P4 Composition Writing
Springboards to Writing (HP): quality children's literature to model good writing and introduce literary devices
Enhancing Writing Skills (MP): showing and not telling, clear three-part story structure
Essential Writing Skills (LP): parts of speech, complete sentences, writing 'super' sentences, Starters and Endings
Our teacher is nice and understanding. She helped me to pass my exam.
Aniq Eazra, 4-3
Griffiths Primary School
P4–P5 Writing With Mentor Texts
Analyse and discuss pieces from acclaimed children's authors
Introduction to 6 Traits Writing (Idea Development, Story Structure, Voice, Word Choice, Sentence Fluency, Writing Conventions)
Short, focused and comprehensive writing exercises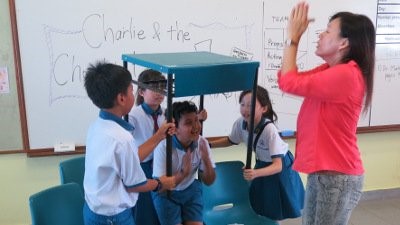 P4–P6 Using Drama as a Springboard to Writing
Drama activities such as role play and mime
Visualise characters and scenes, generate vocabulary, create interesting storylines
Differentiated materials for HP, MP, LP and Foundation pupils
I learned how role play, tableau and thought tracking can help me write better compositions. I now know to use different words to describe different emotions in my writing.
Afiqah, 5C
Xingnan Primary School
P5 Composition Writing
Steps to Writing (HP): purposeful dialogue, linking words and phrases, using an editing checklist
Kids Can Write (MP): showing and not telling, vivid verbs and interesting adjectives
Write Right! (LP): Starters and Endings, story development, showing sentences
Writing Made Easy! (FD): story elements (Setting, Characters, Problem and Solution), roleplay, writing frames
I really liked our instructor. She explained clearly and helped us to write good compositions. I have improved in my writing skills and my marks as well.
Jasmin, JO5
CHIJ (Katong) Primary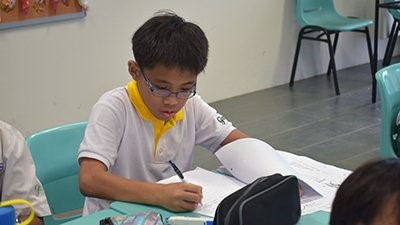 P5–P6 Expository Writing
Characteristic signal words and structure of the Information Report and the Explanation
Introduction to the concept of main idea and supporting details
Age-appropriate and stimulating writing topics
Hones critical thinking skills
P5–P6 Journalism for Kids
Introduction to parts of a newspaper and types of articles
Interviewing and note-taking skills
Writing and editing news stories and/or feature articles
Formatting and publishing team newsletters
During this Journalism class, I became a reporter. I really enjoyed writing the news stories. In the future, I would like to write more stories and become a real reporter.
Shervon, 4.2
Methodist Girls' School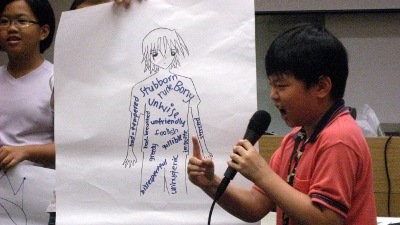 P6 Composition Writing
Writing with Style! (HP): quality children's literature to teach figurative language, sentence variety, character development
Strategic Writing Skills (MP): effective planning, showing and not telling, proofreading
Writing Essentials (LP): grammatical sentences, word webs, visualising characters
Write Well! (FD): story elements (Setting, Characters, Problem and Solution), Starters and Endings, role play and writing frames
I really liked my instructor. She was kind. She helped us to understand the correct tenses to use in our writing and she would point out the mistakes we made. She gave us lots of useful information.
Huiling, 6/1
Ahmad Ibrahim Primary School
Check with us now for a Free Quotation!