Mrs Barbara Lock, mother of Ethan Lock (P5)
---
Ethan looks forward to the weekly lessons and thoroughly enjoys them as he feels he can learn a lot. Prior to joining LiteracyPlus, creative writing was Ethan's bugbear. However, in the span of one year here, Ethan's creative writing improved and, more importantly, his attitude towards it changed! Under the caring mentorship of his teacher, Ethan is no longer apprehensive about creative writing. In fact, he now enjoys writing and is willing to try different genres. This to me is the most remarkable improvement in my son. In this high pressure education system, it is a joy to see a child enjoy the learning process!
---
Ms Annie Lim, mother of Samuel Chan (P3)
---
In just 3 months, we could see improvement in Samuel's comprehension and writing skills through his daily work and in his exam score. We also noticed improvement in his vocabulary! We are very happy with his progress.
Samuel always looks forward to lessons at the Centre, and he enjoys his teacher's fun and interesting teaching methods. He shared that she is patient and encourages him to help others and work together with his team.
When Samuel was hospitalised, we were surprised when the teacher called to show her concern. We are very grateful and happy that LiteracyPlus teachers are genuinely interested in their students' studies and welfare.
---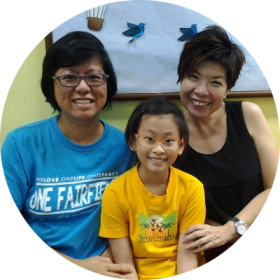 Mrs Khoo, mother of Karis Khoo (P4)
---
Karis went from scoring 68.5% in her English SA1 to scoring 92.5% in her SA2! We want to thank her teacher for making lessons interesting and providing a conducive environment for Karis to learn in. We believe this outcome is the result of strong family support and the good rapport established between Karis and her teacher. We hope Karis will continue to be consistent in her work and to discover great joy in learning under the loving and caring guidance of her teacher.
---
Mr and Mrs Lum, parents of Sarah Lum (P6)
---
Sarah started Maths classes at LiteracyPlus when she was in P5. She did not do very well for her Maths in P4 so we decided to enrol her at a Centre whose methods would be effective, and place her under a teacher who would be patient in coaching her. Thankfully, Mrs Wong, Head of Maths at LiteracyPlus, was Sarah's Maths teacher.
After two years of Mrs Wong's guidance, Sarah worked hard and managed to score a B for her PSLE Maths. Sarah came a long way from when she first started and we are grateful to Mrs Wong for playing a large part in Sarah's improvement.
---
Mr Jason Chan, father of Ethan Chan (P1)
---
To get my son better prepared for Primary 1, we decided to enrol Ethan for English classes at LiteracyPlus, which was a Centre recommended to us by a cousin. What we like about LiteracyPlus is that they employ teachers who have experience teaching in Singapore preschools and primary schools. We felt confident that Ethan's teacher, Mrs Chua, would know the primary school syllabus well and that we were leaving Ethan in good hands.
Mrs Chua is a very patient and passionate teacher. Under her guidance, she helped Ethan build on his strengths and improve on his sentence writing, vocabulary and grammar. In his recent Primary 1 Holistic Development Assessment, Ethan managed to get a perfect score for English. We were also pleased to hear from his school teacher that he is one of the few students in his class who can write a story on his own using proper sentences.
Together with Ethan, we would like to thank Mrs Chua for her dedication and all her encouragement. Great job!
---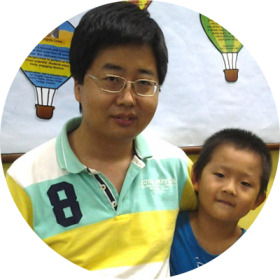 Mr Frederick Yu, father of Sean Yu (K2)
---
Sean looks forward to lessons at LiteracyPlus. His reading skills and willingness to read have improved tremendously. His teacher is passionate and encouraging. We appreciate her regular feedback on Sean's progess and her guidance on how we may support his learning at home.
---
Ms Michelle Aeidel, mother of Benjamin Aeidelfitri (P2)
---
Benjamin has shown tremendous improvement in his composition practice in school. He scored 11/12 in the recent practice and his composition was displayed on the class board. He was very proud of that! Thank you so much, Mrs Koh, for making lessons interesting. He always looks forward to attending classes!
---
Mr Koh, father of Kelven Koh (P4)
---
Thank you, Mrs Wong, for guiding Kelven and helping him improve tremendously on his Maths SA2. Kelven no longer fears the subject and has a new-found confidence in Maths. Bravo!
---