N2 Reading Essentials
(Level 1)
Promotes the joy of reading

Award-winning storybooks

Teaches concepts of print

Letter-sound recognition and blending
N2 Speech & Movement
Develops Oral skills and spatial awareness

Improved concentration and social skills

Poems, rhymes and songs

Games and Speech & Drama activities
K1 Reading Essentials
(Level 2)
Builds reading fluency

Consonants, short vowels, long vowels

Word families, blending, phonics rules

Rhymes, poems, songs and passages
K1-K2 Speech & Drama
Improves Oral skills and stimulates creativity

Basics of posture, bodily movements, voice projection, pronunciation and eye contact

Simple texts, poems, chants and stories

Choral recitation, Readers' Theatre, role-playing and hot seating

Show & Tell presentation
K2 Head Start to Primary 1
Sight words and word families

Blending and segmenting

New vocabulary and increased general knowledge

Speech & Drama to develop Oral skills

Basic Writing and Comprehension skills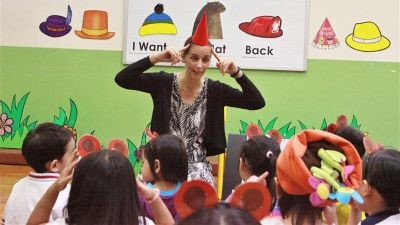 N2 Stories Come Alive!
Promotes the joy of reading with award-winning storybooks

Concepts of print, story sequence, identifying problems and solutions

Letter sounds and blending

Games, crafts and Speech & Drama activities
K1 Fun with Phonics!
For pupils learning to read

Promotes letter-sound recognition and phonemic awareness

Word families and blending

Fun rhymes, poems, songs, chants and passages
K1-K2 Speech & Drama
Improves Oral skills

Basics of posture, bodily movements, voice projection, articulation and eye contact

Simple texts, poems, chants and stories

End-of-programme team presentation
K1-K2 Young Explorer's Workshops
Each workshop explores a specific theme

Poems, books and short articles

Fun activities that include writing, crafts and Speech & Drama

Themes include Grassland Animals, The Water Cycle, Wild About Bugs and We Are Hungry
K2 Head Start to Primary 1
Eases the transition to P1

Basic Writing and Comprehension skills

Basic Grammar rules and Vocabulary

Speech & Drama activities to develop Oral skills
Check with us now for a Free Quotation!